Experience
With almost 27 years experience in creative marketing, we have worked in almost every industry and have a great deal of knowledge and experience in most advertising mediums. We continue to educate ourselves as the industry (and software) and what appeals to your demographic is changes.
Approach
We approach our projects with a unique perspective that takes into account the client's needs and goals. Our vast experience in graphic design, marketing, video production, promotional products, and our collaborative efforts with other professionals and freelancers in this industry should give you confidence in hiring us for any project.
Passion
Sunbelt Creative is very involved with several non-profit organizations and donates over 1000 hours annually to these deserving, caring groups. Gayle Guthrie, the owner of Sunbelt Creative, founded and serves as the Director of the Stray Love Foundation, Inc., a 501c3 foster based animal rescue group based in Baldwin County. She, other employees and many volunteers, not only donate time but also foster animals, help with adoptions and organize fundraisers for this worthy cause. Most likely if you go by the Sunbelt office, there will be a foster animal or two there "assisting and critiquing their work". (Gayle says they find them very helpful.)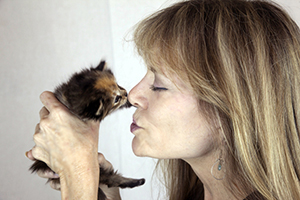 Gayle Guthrie, Owner, Creative Director/Designer




Testimonials
"Gayle is talented, enthusiastic, professional, and fun. I have worked on many projects with her and will always look forward to doing more projects with her. The work is interesting, I always know where I stand with her, and I always know what to expect from her. Always a good experience! The product is first rate, and she has a good follow-through after the work is completed." March 26, 2012 - Alec Thigpen, Owner, Thigpen Photography, Inc.
"Gayle has always done a great job with anything we need to promote our business. From designing our logo to printing business cards or magnetic signs she has always been creative, has great suggestions and is very easy to work with!" February 14, 2011 - Gene Montecchie